For over 25 years SilverSneakers has been known for its exclusive senior-focused fitness classes and amazing membership centered around healthy aging. Up until about a year ago, the only way to join-in on the core of being a member was to go to a gym or fitness center and attend a fitness class.
That has all changed with SilverSneakers On-Demand - an online video hub for SilverSneakers members with everything from stretching exercises to full SilverSneakers classes that can be watched and followed along at home.
My Role
Design Lead
Product Design
Problem statement
How do we bring SilverSneakers to the homes of seniors who don't want to or can't get to a gym so they too can have a chance to live a healthier life? We had to tackle this issue because we knew that even though there were millions of active members who enjoyed going to the gym and classes, there was also a larger population who simply couldn't get to these classes because of geographic limitations or the idea of going to the gym was too intimidating.
Existing vs. Living
Before going too far, we had to take a step back and understand why this was so important. As we age, exercise and overall well-being becomes increasingly important. However, the drive behind these seniors to be healthier is rooted in the difference between existing on a couch day-after-day, versus actually living their lives to the fullest and doing what they really want to do.
Research
We started our research about a year prior to the official kickoff of this final design with a simple on-demand video library tucked in the dashboard for members. Think of it as a silent MVP.
[Note: I wasn't on the team quite yet when the test was launched - I was still on the creative team. However, everything else from then-on I was involved in.]
Fast-Forward to a year later and the business decision was made to put more of an investment into on-demand videos. What we had to find out was how to deliver those videos and why it was so important to seniors.
We conducted extensive studies from survey's to card-sorting exercises in order to figure out how older adults watched online exercise videos already. Not to mention, we wanted to explore all the different types of channels they could consume the videos in order to deliver the SilverSneakers On-Demand in the proper format. Once done, we had a good lead of what mediums and features to deliver.
This project also spawned new types of personas for us to think about in order to get in the mindset of seniors who preferred to workout in the comfort of their own home.

The Solution
We verified there was in fact a need and desire for these on-demand videos, there was no doubt about that. The solution that needed to be created was a way to take the content we had from the MVP and design out an entire experience that was easy to use and scaled gracefully.
Fortunately a previous project we completed laid the foundation for a scalable card-based design system. We took these elements, along with the studies on features seniors desired for a platform like this, and began organizing the content into four main sections.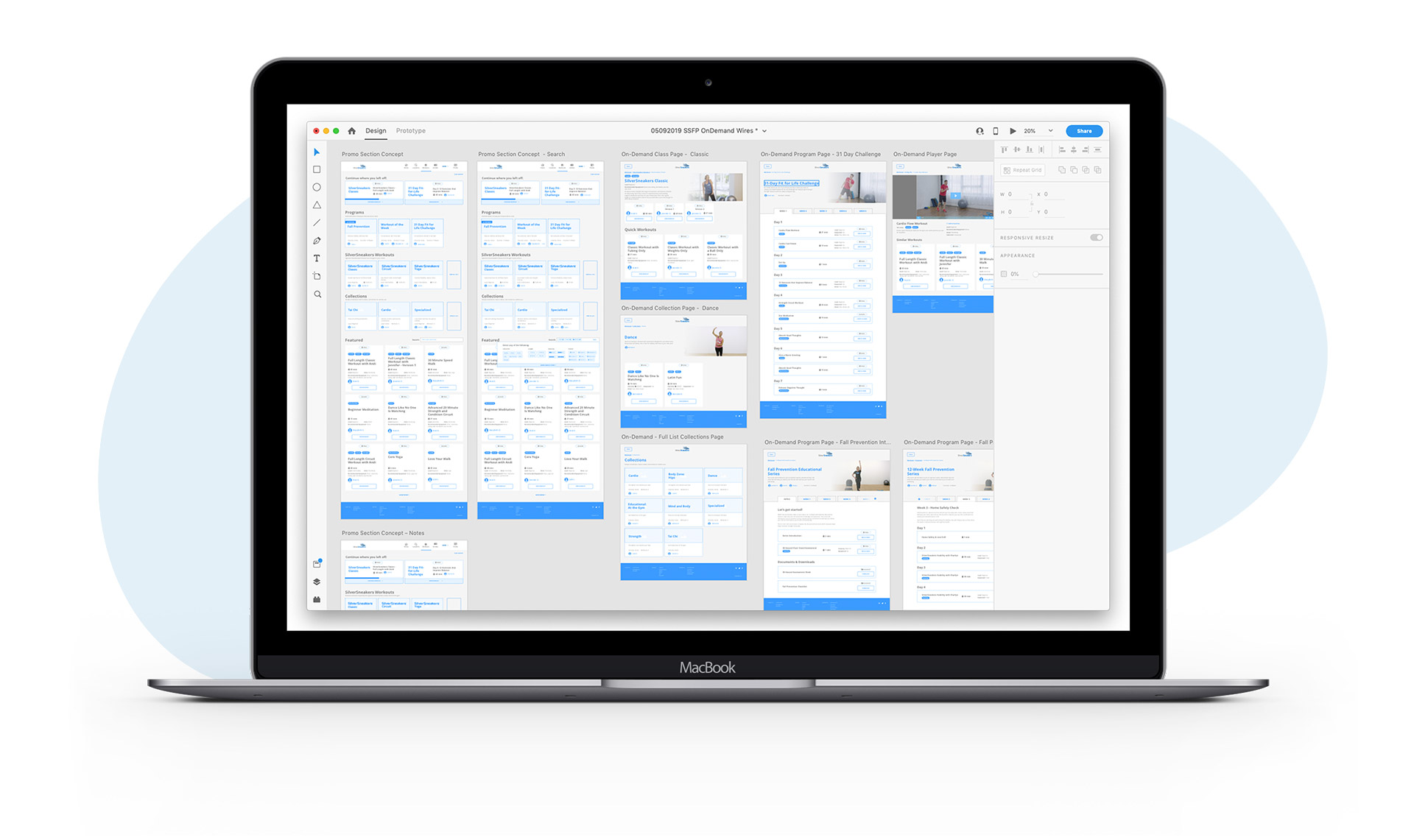 Programs
We found there was a desire by some seniors to have more structure with an actual exercise program, so we surfaced these programs at the top of the on-demand site in order to encourage more seniors to commit to a long-term exercise routine.

Classes
Oddly enough, we discovered that since our SilverSneakers classes were so iconic, seniors were often assuming this content was to schedule a visit to a gym in order to attend a class. A simple change to "SilverSneakers Workouts" with a little description explaining these were similar to the actual classes at the gym fixed that confusion.

Collections
The more common exercises and workouts were housed there. This is a fairly common pattern in on-demand fitness platforms where people can easily find a workout they already have in mind.
Featured Content
With so many incredible exercise videos being created by our talented in-house team with SilverSneakers master trainers, we wanted to allow them to showcase new or existing content in a way that shined a spotlight on what was most important in the fitness world. A big part of this project became a secondary CMS that gave the in-house program team the freedom to manage the content on their own - no developers needed.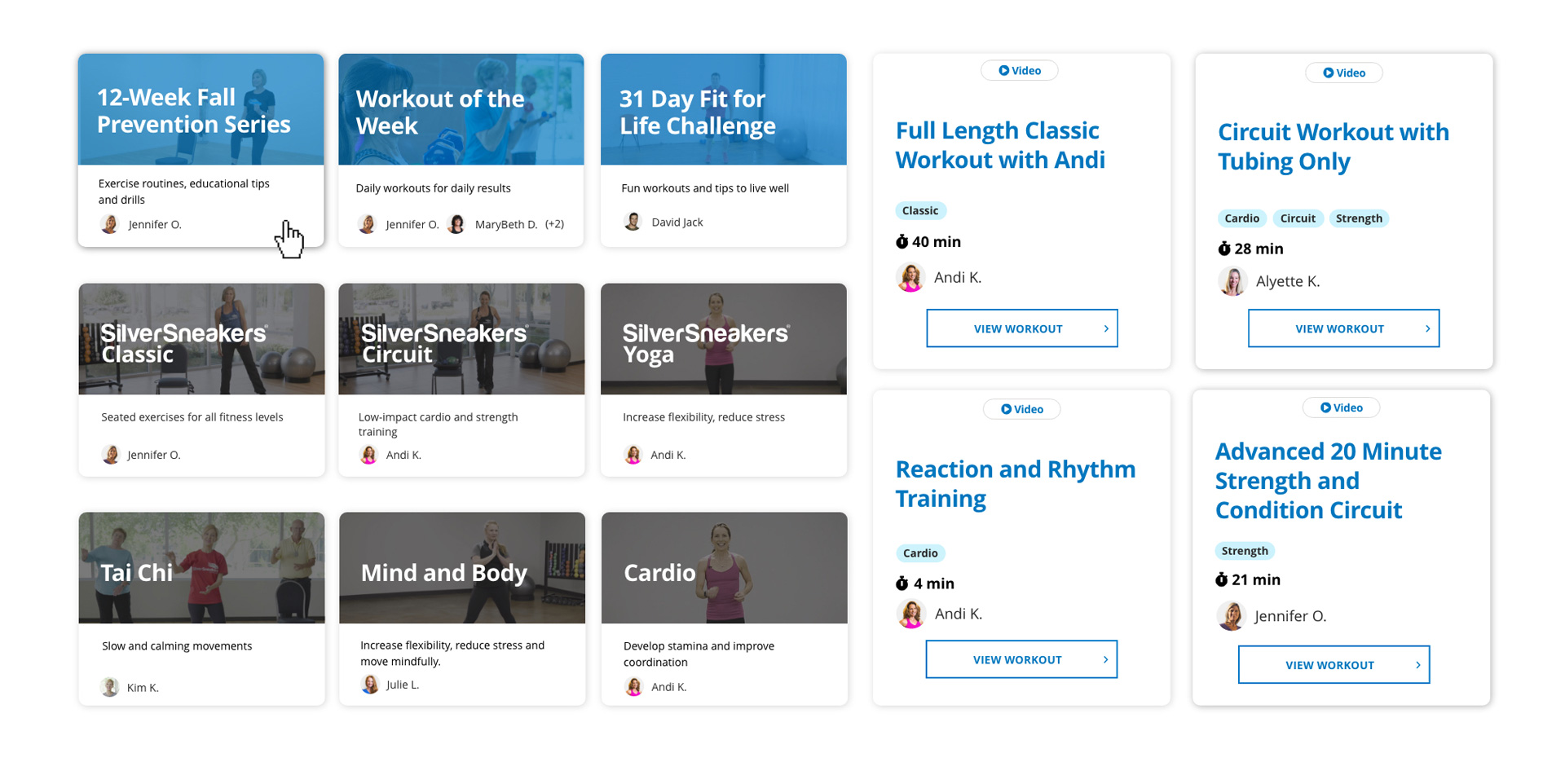 While I continued on the member-facing side of the site, my manager took on the task of designing a new CMS in Bootstrap that would be developed in tandem. Once the design was solidified for the CMS, I stepped in to work with our developers and engineers to get the final product(s) launched - both the member site design and the admin site design.
A Chance for a Healthier Life
After months of hard work, we finally have what you see below - the official SilverSneakers On-Demand site. Now millions more have the chance to follow along with the legendary SilverSneakers workouts, even if they can't get to the gym.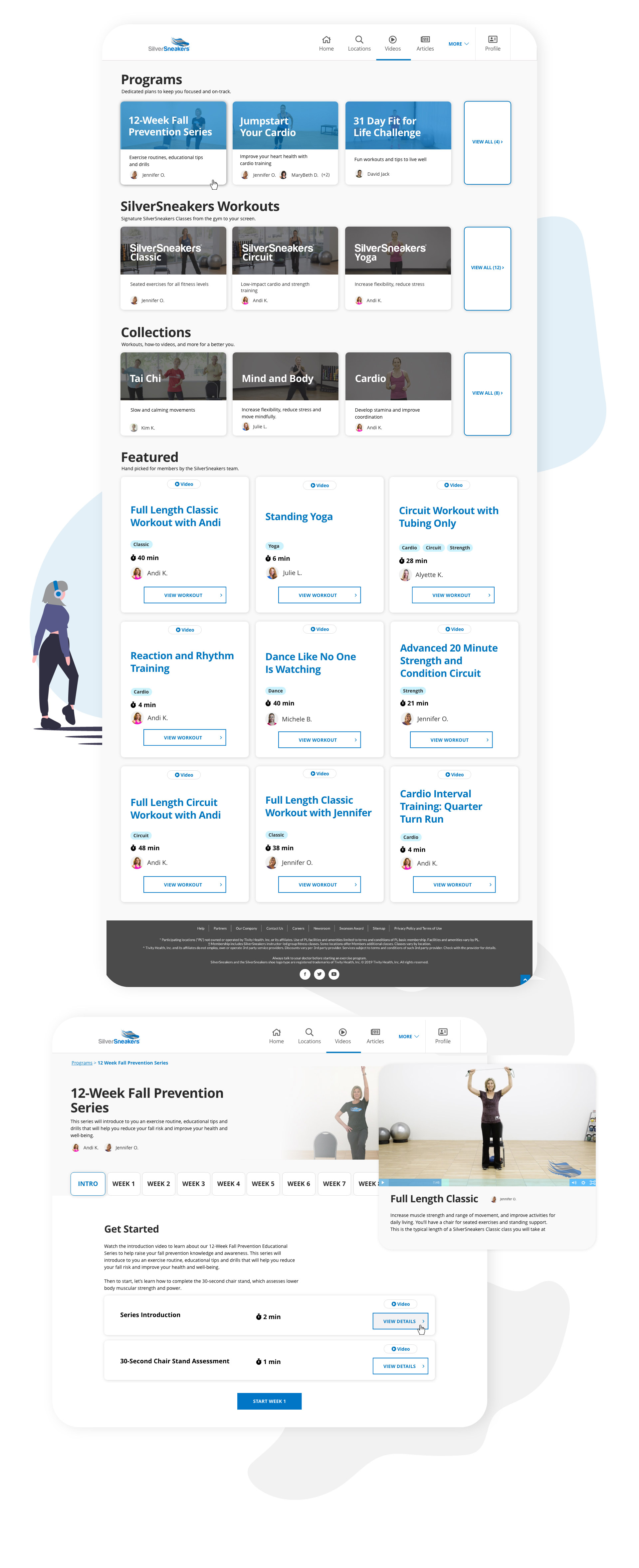 Integrated with SilverSneakers member's online accounts, the videos are now easier to discover on any type of device. And while the design team continues on future improvements, the team that creates these incredible workout videos has total control over uploading and managing new content on the site.